Privacy & Security is a Top Priority
Protect the privacy of your researchers and customers and know your data is safe and secure with Great Question.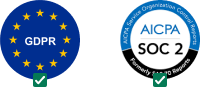 Keep researcher data private
Protect researchers personal information from last name to calendar availability, so researchers feel confident doing research with as many customers as possible.
Customer data is secure
Know that all customer data is monitored and backed up regularly, Don't worry about breaches or downtime. Just get more research done faster.
GDPR & SOC2 compliant
It's easy to manage consent when customers join your panel or participate in research. We manage data based on five trust service principles.
See it for yourself
Involve any teams in research with free observer seats, share learnings from the research repository and share the research loads with round robin capabilities. No matter who leads the research, anyone can participate.
Security Features
Encrypted Data
All data in-transit is secured using TLS and at-rest with AES-256, block-level storage encryption. All customer passwords are hashed. This means if you lose it, it's gone forever.
Certified Infrastructure
We rely on Heroku to provide our infrastructure. Heroku data centers are SOC 1, SOC 2 and SOC 3 certified.
Constant Monitoring
We monitor both our infrastructure and network traffic to detect anomalies and prevent potential threats.
User Roles & Permissions
Each organization on Great Question has the power to configure their own access roles to ensure security within their organization.
Limited Employee Access
Only select Great Question employees (those who directly require it to do their job) are authorized to access your data.
Audit Trails & Logging
All access to user data is logged, whether by your own team members or Great Question employees.
Certifications & Accreditations
SOC 2 Type 1 exam completed and built from the ground up to be GDPR compliant.
"Great Question allows us to get in touch with our customers in a really natural way."

Dani Sandoval

Chipper Cash
Frequently asked questions
Can I share feedback on security?
If you would like to share feedback on our security, or have any security concerns, please contact us at security@greatquestion.co.
What are some steps I can take to protect my researchers' privacy?
We recommend in all calendars, that you check the "keep my calendar private checkbox" for every study. To see where this exists, review this demo video. As part of our enterprise plan, you are able to obfuscate the researchers last name.
Can I get a copy of your SOC2 compliance certificate
Yes, please email support at greatquestion.co to get a copy of our compliance certificate.
Ready to take your customer research to the next level?
Get started