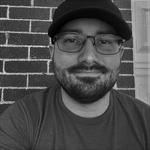 Updated by Billy Dowell
Using Observer Rooms
Observer rooms allow your team to sit in on live interviews without being in the interview room, relieving some of that pressure your participants may sometimes feel when there are six other faces on the call.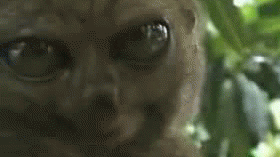 Reasons to use Observer Rooms
Involve more stakeholders

Invite your whole team, knowing that you do not need to introduce them all to your research participant. No additional apps, and no extra faces on your video calls.

Great participant experience

Make your participants feel at ease by keeping observers out of the interview room. Protect participant PII with separate calendar invites for participants, observers, and other researchers.

Faster impact

Leverage more perspectives and increase the impact of research by enabling your organization to participate directly in research, in real-time.
How to get access to the Observer Room Beta
Observer rooms are now live for all accounts! 🎉
How to enable Observer Rooms in your study
At this time, the feature needs to be enabled before publishing. Once published, the feature cannot be enabled or disabled. We are going to be adding the ability to enable/disable on published studies as updates and improvements are made to the feature.
At this time, this feature can only be used with Zoom (via the Zoom integration or a custom Zoom link), and Google Meet (the integration). Otherwise, the checkbox will not show.
During the drafting stage, you can toggle the Live streaming enabled feature, just under the Location setting.
That's it. 👍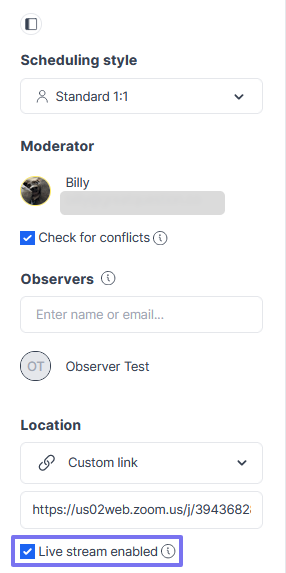 How does it work once enabled?
After a participant schedules an interview, observers will receive a calendar invite containing a link to the observer room.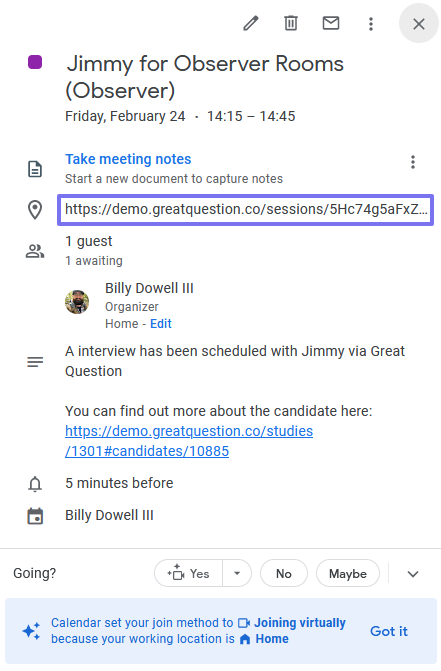 Users/Observers will see a message in place of the video upload box prior to the interview going live.
Once an interview has been created, the Share option needs to be changed to "Anyone with the link can view" in order for observers that do not have a Great Question account to join the observer room.

Once the interview begins, the observer room will go live a few seconds after the session starts.
A "participant" called Great Question Bot will be added to the interview. This bot records the session and does inform all parties via chat.

This bot will attempt to join the meeting from the starting time and for the next 15 minutes. If the meeting is started after 15 minutes past the start time, the bot will not join.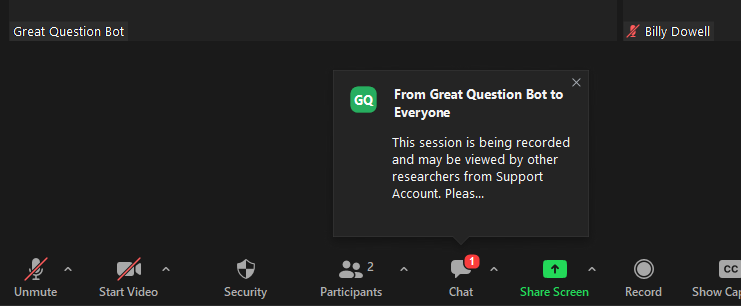 A live transcript of the session will be displayed below the video so that observers can follow along.
After the session has completed, the video for the interview can be replayed, significantly faster than before, for tagging, rewatching, etc...
The transcript will be updated after the interview has ended with a more accurate version that is currently not possible in a live setting.
Current limitations
There is a 10-second delay between the live interview and the observer room feed.

This includes the start of the observer room.

Interviews must be scheduled at about five (5) minutes out from the current time in order for a guaranteed bot to join. A bot may join, but ten or more (10+) minutes is recommended.
Notes will be locked for editing during the session to observers to prevent conflicts.

We are looking into alternative options for future iterations to allow all users to take notes in real time.

At this time, tagging cannot be performed on the live transcript.
As a reminder, this feature is currently in beta. Please share any and all feedback with us so that we can make the most out of that feedback.
Good to know
Within invitation email templates, you will see study.live_stream_disclaimer. The disclaimer is in all default invitation email templates, but is only applied when your study has observer rooms enabled. It will read:

"This session will be recorded and may be viewed by other researchers from Support Account. Please notify your researcher if you no longer wish for this session to be recorded."

For studies that are not using the observer room feature, the bullet point will not be included in the actual email.
Have Questions?
Please reach out to us in the chat or at [email protected]!