Using the Great Question Scheduling Tool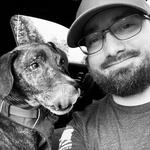 Updated by Billy Dowell
What is the Great Question Scheduling Tool?
The scheduling tool is used when creating and managing Customer Interviews. It lives under the Calendar tab, and is where you will be organizing your availability for those interviews with your participants.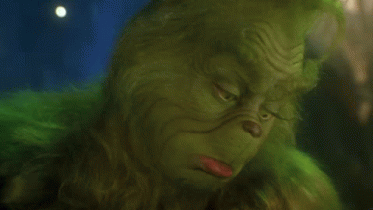 Getting Started
Make sure that your calendar has been integrated in your account.
Create a new Customer Interviews study and proceed until you get to the Calendar step.

If you are already in a study and have not integrated your calendar, you will be prompted to do so.

Google Workspace and Microsoft cannot both be integrated at this time.

For draft studies - If you are already using the Great Question Scheduler and are wanting to switch to Calendly, click on your name under Call Moderators and select the last option, Switch to Calendly.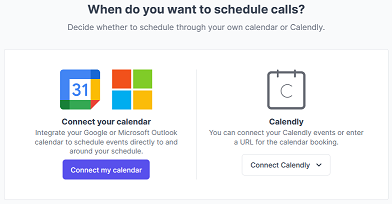 Sidebar Menu
Scheduling Style
The first thing to notice here is the Scheduling style, and is where you will be able to choose Standard 1:1, Collective, or Round robin.
Standard focuses on the moderator's availability.
Collective focuses on multiple user's availability. ‍
Round robin rotates moderators for each call based on fairness and availability.
Scheduling Style can be changed once a study has been published.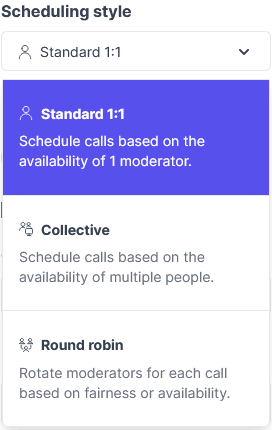 Scheduling Style - More on Collective‍
When selecting a calendar, other than the default calendar, it will only be used for conflict checking, but the event will be created on your default calendar.
‍
Scheduling Style - More on Round robin
Once selecting Round robin, you can then choose how you want the feature to rotate through your moderators.
Availability-based will provide more time slots to choose from for the participants.
Fairness-based will ensure moderators conduct the same number of calls.
After choosing the type, you can then add your moderators.
Moderator
The moderator is the owner of the study, but can be changed once a new owner has been selected by the current study owner, or an admin.
While hovering over the moderator's name, you will see a caret that can be clicked to see more details, such as changing the calendar used, or changing the moderator, as mentioned above.
There can be more than one moderator in a study using
Round robin,
but still only one study owner.
Observers
cannot
be moderators.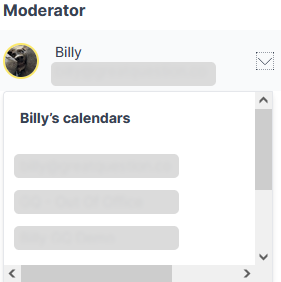 Check for conflicts
Check for conflict is enabled by default and can be enabled/disabled before and after a study has been published.
This feature will change the calendar view to show when there would be a conflict and prevents double bookings.
Observers
Observers are anyone that you want to be able to sit in on the interview.
Type in the name or email of the person that you want to observe, or copy and paste multiple emails at a time into the observer field.

Group emails can be used. (i.e., [email protected])
Observers will receive an invitation to interviews as they are scheduled.
Observers added via this method can register their account and create a password from the Sign up page.
If you have a Workspace Access enabled under Account > Team > Settings, the email must be a domain email that matches your domain on file.
Observers are currently not an option in a Round Robin studies.
Location
Location is where your meeting will be held.
Click on the Add call link button and choose where you want your meeting to be held.
If you have your Zoom account integrated, it will be your default option.
If using Google, Google Meet will be shown as an actionable option.
If using Microsoft, with a business email (Microsoft Office 365), Microsoft Teams will show as an option if connected.

MS Teams requires additional approval and setup. Please follow the steps in the linked guide above to connect MS Teams.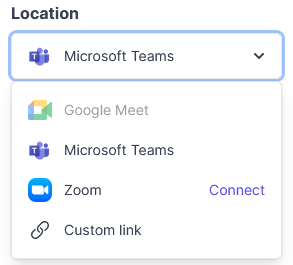 Duration
Duration is how long you want your interviews to last.
The duration also affects how blacks of availability are set and what options the participants sees.
Default duration is 30 minutes, but can be 15, 30, 45, 60, 75, 90 minutes, or Custom.

If choosing Custom, type in the number of minutes you want the duration to be.
Booking Limits
Booking limits allow you to set limits on how many interviews you conduct each day, week, or both.
Each option, Daily and Weekly, can be set from 0 to 20.
Allow Time Proposals

Time proposals allow your participants to propose a time that may not already be shown within your availability.
Once proposed, you can review the proposals and select one that works for you AND the participant.
This feature is enabled by default, and can be disabled by clicking on the toggle.
For more information and details about time proposals, check out our
Time Proposals
guide.
Allow Waitlists

Waitlists allow your participants to show interest in your study, even when all slots are full.
In the event that you have a slot open up, you can see who in the invited column has elected to join the waitlist by the icon to the right of their name, and then send another participation invite.
This feature is disabled by default, and can enabled by clicking on the toggle.
Show Advanced Options
Click Show advanced options if you want to make additional adjustments to the calendar view and/or interview availability details.
To hide the advanced options, click Hide advanced options.
Maximum Scheduling Notice
The maximum scheduling notice determines how far out you want a participant to be able to schedule an interview.

Example: If you want to open up your availability for a month, but do not want people to be able to schedule more than two weeks out, this is the feature to use.
Minimum Scheduling Notice
The minimum scheduling notice determines how much time you want before a participant can schedule an interview.

Example: If you have your scheduling notice is 2 hours, candidates can only schedule time with you 2 hours from the current time. So no more new interviews scheduled 10 minutes from now, while you are still waiting on that first coffee pot.
Buffer Between Events
A buffer between events allows for some time between scheduled interviews and other events on your calendar.

Example: If you have a 30-minute buffer and an interview scheduled at 9:00am that is 30 minutes long, participants will not be able to schedule an interview until 10:00 am. 30 minutes for the interview and 30 minutes for the break in between.
When viewing the scheduler preview that the participants see, the buffer will not be visible in the time slots until the first interview has been scheduled.
Calendar View Settings
The daily hours change the view of the calendar while you set up your blocks of time.
The default is 7:00am to 7:00pm, but you can change that window to make it easier to focus on your preferred availability window.
This does not have any effect on the interview times or availability.
Availability/Calendar
Date Selection
To choose your available dates, click on the To-From date dropdown and select your date range.
There is no limitation on how many days/weeks can be selected.
Changing the date range does not change the view, as the calendar view is weekly.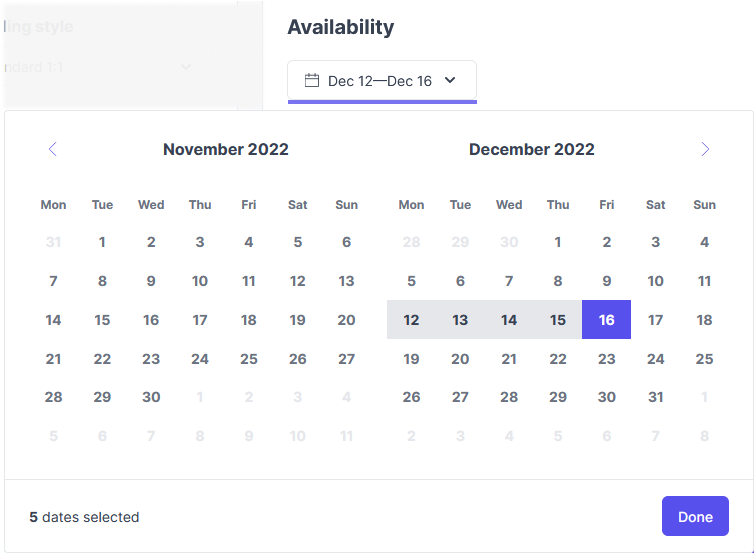 I'm Available
There are three quick options to use if you want to set a global availability for the calendar.
The quick options are great starting points.

9:00am - 5:00pm will set all days to that block of time.
Mornings will set all days at 9:00am - 12pm.
Afternoons will set all days at 12:30pm - 5:00pm.

The timezone, automatically set based on your location, can be changed from the top left corner of the calendar if needed.
Adjusting time blocks
Each block of time can be adjusted by either clicking on the block and adjusting the times from the dropdown options, or by clicking and dragging the top and/or bottom of each block.
If you need to change one day, Friday for example, but do not want to adjust all Friday time blocks, click on the block and uncheck the Recurring checkbox. Once the box as been unchecked, only that time block will change as adjustments are made.
Events on the Great Question calendar are pulled from the integrated calendar. Events on shared calendars will not show.
Preview
To see a preview of the scheduler that your participants will see, click on the Preview button in the top right corner of the calendar.
The participant view is a monthly view that allows the selection of a day, followed by the available time slots in that day.

All times can be seen on the right, but selection of the preferred day does take them directly to that day's slots.
The green number above the calendar also indicates how many clots there are.

Participants will see their own time zone, based on their location/IP address, but can change it if they need to choose another. As well as be able to change from a 12 to 24-hour clock.
When a time slot is selected, they will see an option to confirm the selected time.
Once confirm is clicked, they will be brought to the confirmation page where they will provide their information and confirm the interview.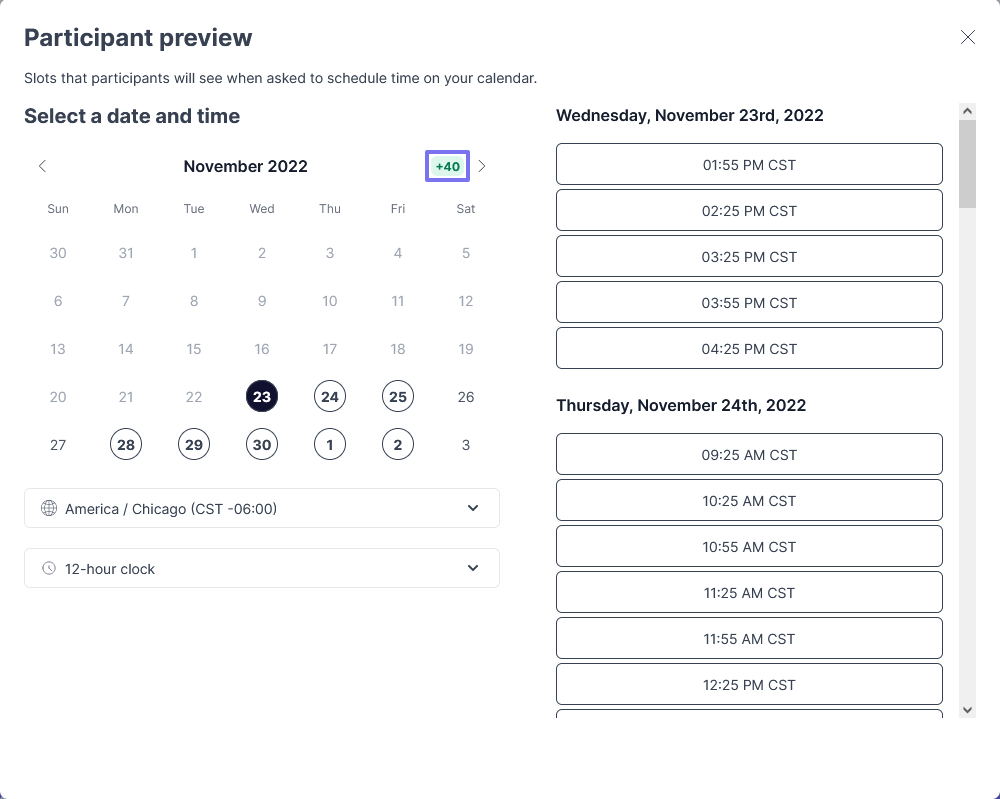 Fin
Once you have everything set up the way that you want it, click Next if you are in a draft, or Save if you are editing a published study. 🎉
Scheduler FAQs
Review some scheduling FAQs here.
Have Questions?
Please reach out to us in the chat or at [email protected]!